Ascension / Восхождение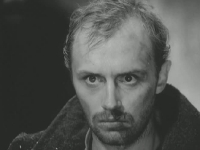 Fiction, Russie, 1976, 111', NB, VOSTF

by Larissa Chepitko
with Vladimir Gostioukhin, Boris Plotnikov, Lioudmila Poliakova, Anatoli Solonitsyne, Maria Vinogradova, Sergueï Yakovlev
During the Second World War, two Russian men are captured by the German occupier and forced to choose between collaboration and death. One of them chooses to live and collaborate, the other refuses to betray his country and so is put to death.
Based on the novel by Vassili Bykov, Ascension explores the multiple enigmas of the human spirit, its psychological complexity and the immortality of the soul of both a traitor and a hero.
"My film is a journey towards humanity, towards the destiny of the human being within these two characters," Larissa Chepitko has said in an interview.
Aesthetically accomplished in its provocative use of black and white and with a dramatic score by Schnitke.
Golden Bear — Berlin 1977